Sona gets Eurobind – First Heidelberg Eurobind 4000 in Asia – Printing Times
It takes a lot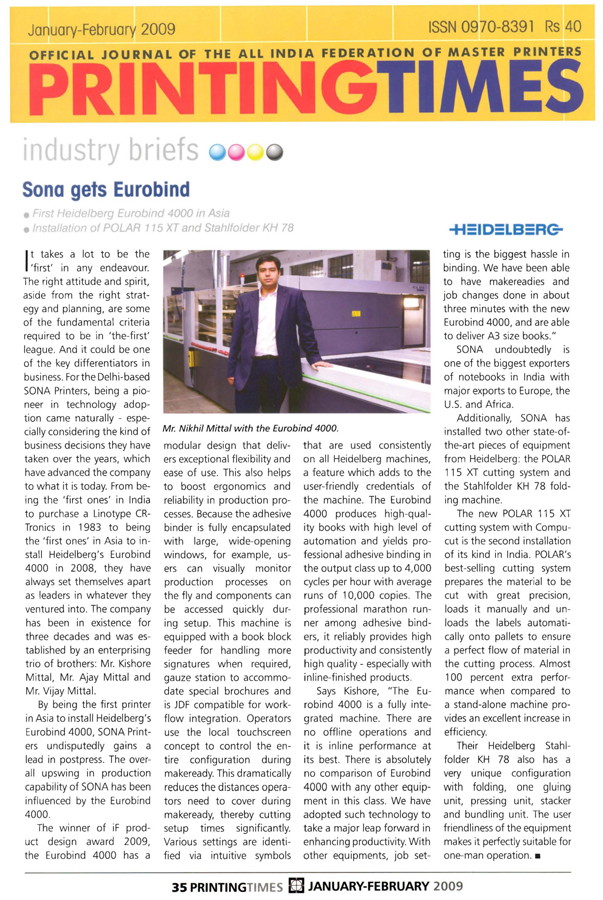 to be the 'first' in any endeavour. The right attitude and spirit, aside from the right strategy and planning, are some of the fundamental criteria required to be in 'the-first' league. And it could be one of the key differentiators in business. For the Delhi-based SONA Printers, being a pioneer in technology adoption came naturally – especially considering the kind of business decisions they have taken over the years, which have advanced the company to what it is today. From being the 'first ones' in India to purchase a Linotype CR Tronics in 1983 to being the 'first ones' in Asia to install Heidelberg's Eurobind 4000 in 2008, they have always set themselves apart as leaders in whatever they ventured into. The company has been in existence for three decades and was established by an enterprising trio of brothers: Mr. Kishore Mittal, Mr. Ajay Mittal and Mr. Vijay Mittal.
By being the first printer in Asia to install Heidelberg's Eurobind 4000, SONA Printers undisputedly gains a lead in post-press. The overall upswing in production capability of SONA has been influenced by the Eurobind 4000.
The winner of iF product design award 2009, the Eurobind 4000 has a modular design that delivers exceptional flexibility and ease of use. This also helps to boost ergonomics and reliability in production processes. Because the adhesive binder is fully encapsulated with large, wide-opening windows, for example, users can visually monitor production processes on the fly and components can be accessed quickly during setup. This machine is equipped with a book block feeder for handling more signatures when required, gauze station to accommodate special brochures and is JDF compatible for workflow integration. Operators use the local touchscreen concept to control the entire configuration during makeready. This dramatically reduces the distances operators need to cover during makeready, thereby cutting setup times significantly. Various settings are identified via intuitive symbols that are used consistently on all Heidelberg machines, a feature which adds to the user-friendly credentials of the machine. The Eurobind 4000 produces high-quality books with high level of automation and yields professional adhesive binding in the output class up to 4,000 cycles per hour with average runs of 10,000 copies. The professional marathon runner among adhesive binders, it reliably provides high productivity and consistently high quality – especially with inline-finished products.
Says Kishore, "The Eurobind 4000 is a fully integrated machine. There are no offline operations and it is inline performance at its best. There is absolutely no comparison of Eurobind 4000 with any other equipment in this class. We have adopted such technology to take a major leap forward in enhancing productivity. With other equipments, job setting is the biggest hassle in binding. We have been able to have makereadies and job changes done in about three minutes with the new Eurobind 4000, and are able to deliver A3 size books."
SONA undoubtedly is one of the biggest exporters of notebooks in India with major exports to Europe, the U.S. and Africa.
Additionally, SONA has installed two other state-of-the- art pieces of equipment from Heidelberg: the POLAR 115 XT cutting system and the Stahlfolder KH 78 folding machine.
The new POLAR 115 XT cutting system with Compucut is the second installation of its kind in India. POLAR's best-selling cutting system prepares the material to be cut with great precision, loads it manually and unloads the labels automatically onto pallets to ensure a perfect flow of material in the cutting process. Almost 100 percent extra performance when compared to a stand-alone machine provides an excellent increase in efficiency.
Their Heidelberg Stahlfolder KH 78 also has a very unique configuration with folding, one gluing unit, pressing unit, stacker and bundling unit. The user friendliness of the equipment makes it perfectly suitable for one-man operation.
book printing and binding