Sona Strengthens Post-press segment with Heidelberg – Print & Publishing India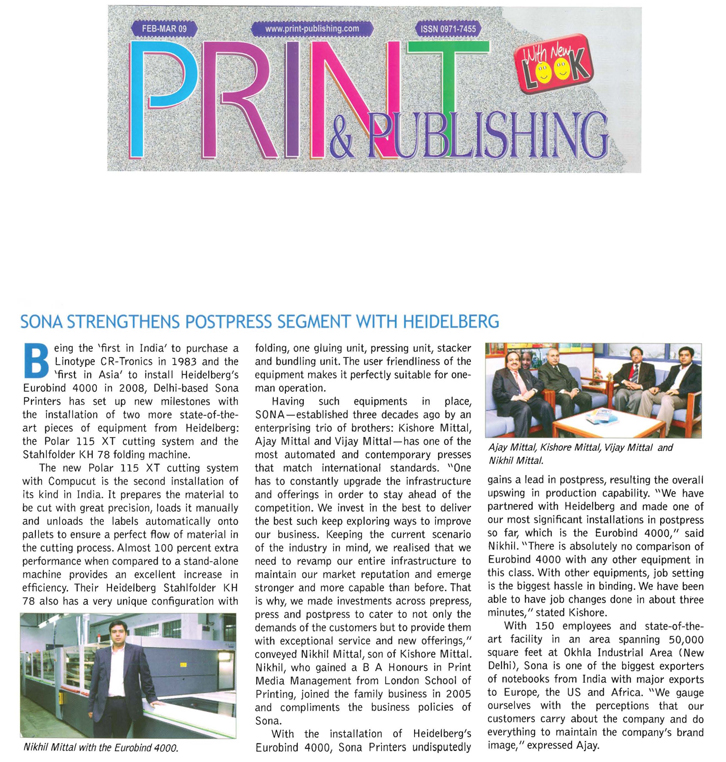 Being the 'first in India' to purchase a Linotype CR-Tronics in 1983 and the 'first in Asia' to install Heidelberg's Eurobind 4000 in 2008, Delhi-based Sona Printers has set up new milestones with the installation of two more state-of-theart pieces of equipment from Heidelberg: the Polar 115 XT cutting system and the Stahlfolder KH 78 folding machine.
The new Polar 115 XT cutting system with Compucut is the second installation of its kind in India. It prepares the material to be cut with great precision, loads it manually and unloads the labels automatically onto pallets to ensure a perfect flow of material in the cutting process. Almost 100 percent extra performance when compared to a stand-alone machine provides an excellent increase in efficiency. Their Heidelberg Stahlfolder KH 78 also has a very unique configuration with folding, one gluing unit, pressing unit, stacker and bundling unit. The user friendliness of the equipment makes it perfectly suitable for one-man operation.
Having such equipments in place, SONA-established three decades ago by an enterprising trio of brothers: Kishore Mittal, Ajay Mittal and Vijay Mittal-has one of the most automated and contemporary presses that match international standards. "One has to constantly upgrade the infrastructure and offerings in order to stay ahead of the competition. We invest in the best to deliver the best such keep exploring ways to improve our business. Keeping the current scenario of the industry in mind, we realized that we need to revamp our entire infrastructure to maintain our market reputation and emerge stronger and more capable than before. That is why, we made investments across prepress, press and post-press to cater to not only the demands of the customers but to provide them with exceptional service and new offerings," conveyed Nikhil Mittal, son of Kishore Mittal. Nikhil, who gained a B A Honours in Print Media Management from London School of Printing, joined the family business in 2005 and compliments the business policies of Sona.
With the installation of Heidelberg's Eurobind 4000, Sona Printers undisputedly gains a lead in post-press, resulting the overall upswing in production capability. "We have partnered with Heidelberg and made one of our most significant installations in post-press so far, which is the Eurobind 4000," said Nikhil. "There is absolutely no comparison of Eurobind 4000 with any other equipment in this class. With other equipments, job setting is the biggest hassle in binding. We have been able to have job changes done in about three minutes" stated Kishore.
With 150 employees and state-of-theart facility in an area spanning 50,000 square feet at Okhla Industrial Area (New Delhi), Sona is one of the biggest exporters of notebooks from India with major exports to Europe, the US and Africa. "We gauge ourselves with the perceptions that our customers carry about the company and do everything to maintain the company's brand image," expressed Ajay.
offset printing