Sona Printers installs JDF-enabled Heidelberg equipment – Printweek India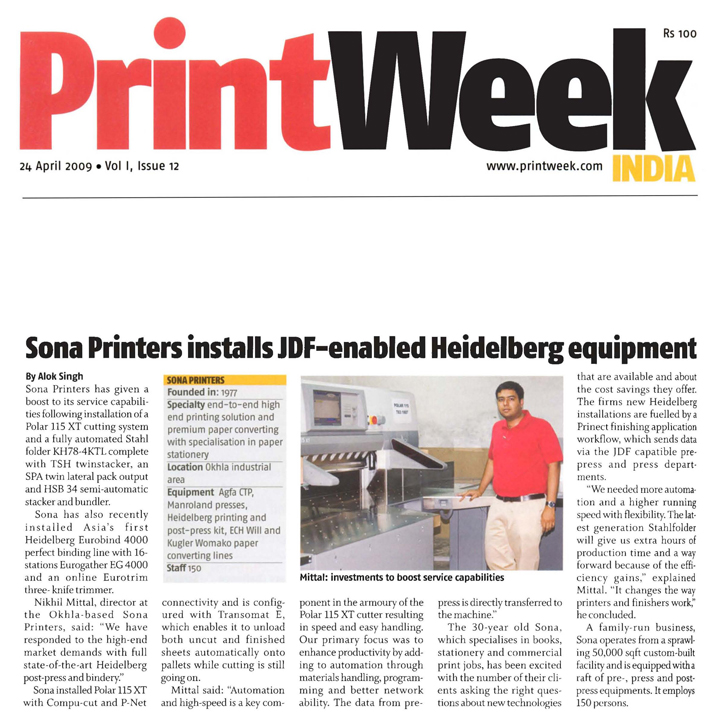 Sona Printers has given a boost to its service capabilities following installation of a Polar 115 XT cutting system and a fully automated Stahl folder KH78-4KTL complete with TSH twinstacker, an SPA twin lateral pack output and HSB 34 semi-automatic stacker and bundler.
Sona has also recently installed Asia's first Heidelberg Eurobind 4000 perfect binding line with 16- stations Eurogather EG 4000 and an online Eurotrim three- knife trimmer.
Nikhil Mittal, director at the Okhla-based Sona Printers, said: "We have responded to the high-end market demands with full state-of-the-art Heidelberg post-press and bindery."
Sona installed Polar 115 XT with Compu-cut and P-Net connectivity and is configured with Transomat E, which enables it to unload both uncut and finished sheets automatically onto pallets while cutting is still going on.
Mittal said: "Automation and high-speed is a key component in the armoury of the Polar 115 XT cutter resulting in speed and easy handling. Our primary focus was to enhance productivity by adding to automation through materials handling, programming and better network ability. The data from pre-press is directly transferred to the machine."
The 30-year old Sona, which specialises in books, stationery and commercial print jobs, has been excited with the number of their clients asking the right questions about new technologies that are available and about the cost savings they offer. The firm s new Heidelberg installations are fuelled by a Prinect finishing application workflow, which sends data via the JDF capatible prepress and press departments.
"We needed more automation and a higher running speed with flexibility. The latest generation Stahlfolder will give us extra hours of production time and a way forward because of the efficiency gains," explained Mittal. "It changes the way printers and finishers work," he concluded.
A family-run business, Sona operates from a sprawling 50,000 sqft custom-built facility and is equipped with a raft of pre-press and post-press equipments. It employs 150 persons.
offset printing India