Sona Printers raises quality bar with fully loaded Manrolands – Printweek India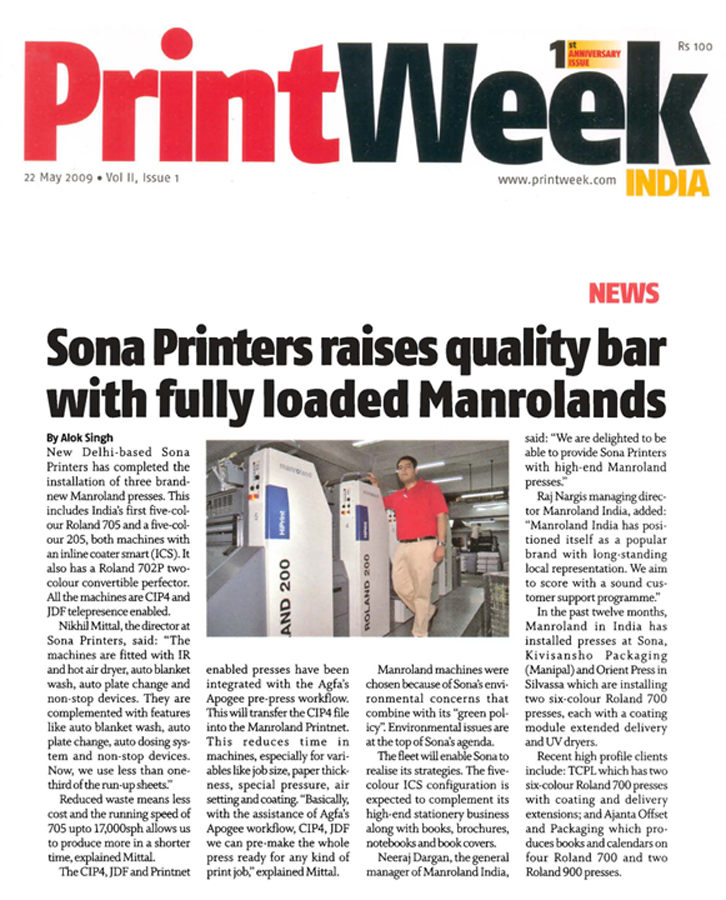 New Delhi-based Sona Printers has completed the installation of three brand new Manroland presses. This includes India's first five-colour Roland 705 and a five-colour 205, both machines with an inline coater smart (ICS). It also has a Roland 702P two-colour convertible perfector. All the machines are CIP4 and JDF telepresence enabled.
Nikhil Mittal, the director at Sona Printers, said: "The machines are fitted with IR and hot air dryer, auto blanket wash, auto plate change and non-stop devices. They are complemented with features like auto blanket wash, auto plate change, auto dosing system and non-stop devices. Now, we use less than one third of the run-up sheets.'
Reduced waste means less cost and the running speed of 705 upto 17,000sph allow us to produce more in a shorter time, explained Mittal.
The CIP4, JDF and Printnet enabled presses have been integrated with the Agfa's Apogee pre-press workflow. This will transfer the CIP4 file into the Manroland Printnet. This reduces time in machines, especially for variables like job size, paper thickness, special pressure, air setting and coating. "Basically, with the assistance of Agfa's Apogee workflow, CIP4, JDF we can pre-make the whole press ready for any kind of print job;' explained Mittal.
Manroland machines were chosen because of Sona's environmental concerns that combine with its "green policy". Environmental issues are at the top of Sona's agenda.
The fleet will enable Sona to realise its strategies. The five-colour ICS configuration is expected to complement its high-end stationery business along with books, brochures, notebooks and book covers.
Neeraj Dargan, the general manager of Manroland India, said: "We are delighted to be able to provide Sona Printers with high-end Manroland presses.'
Raj Nargis managing director Manroland India, added: "Manroland India has positioned itself as a popular brand with long-standing local representation. We aim to score with a sound customer support programme."
In the past twelve months, Manroland in India has installed presses at Sona, Kivisansho Packaging (Manipal) and Orient Press in Silvassa which are installing two six-colour Roland 700 presses, each with a coating module extended delivery and UV dryers.
Recent high profile clients include: TCPL which has two six-colour Roland 700 presses with coating and delivery extensions; and Ajanta Offset and Packaging which produces books and calendars on four Roland 700 and two Roland 900 presses.
offset book printing